EACD at ICOMOS-UK in London
With a little delegation was the EACD invited for a conference "ACTION ON SKILLS TRAINING & EDUCATION for the HISTORIC ENVIRONMENT" from the ICOMOS-UK in collaboration with The Prince´s Foundation for the Built Environment. Lord Hankey, President ICOMOS-UK, and Dombaumeister Jürgen Prigl confirmed during the conference partnershipful attitude and work for the future.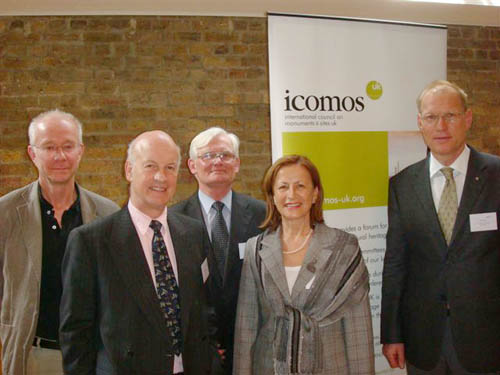 From the left side: Håkan Lindkvist, Byggnadshyttan pa Gotland, EACD, Sweden; Lord Hankey, President ICOMOS UK; John Taylor, Carpenters Company and Building Crafts College London, NHTG; Breda Potočnik, EACD; Dombaumeister Jürgen Prigl, President EACD.